KPN Contract
What is KPN?
The Keystone Purchasing Network (KPN) is a national cooperative purchasing program offering quality publicly and competitively bid products and services. KPN is administered by the Central Susquehanna Intermediate Unit (CSIU), a political subdivision of the Commonwealth of Pennsylvania. KPN's bid process complies with all Pennsylvania bidding requirements relating to Chapter 19 Procurement Code, 62 Pa.C.S §§ 1901 et seq., permitting nonprofit organizations throughout the United States that expend public funds to join together to purchase supplies, services and construction though joint procurement.
Why KPN? The myths:
MYTH 1: Building my dream project needs to be a painful process
If you've ever built a grandstand using the public bid process, you're likely hesitating to do it again. It's a painstakingly arduous process. It makes completing projects on time and on-budget very difficult, if not impossible.
The Keystone Purchasing Network is designed to make your life easier by:
Simplifying the ordering process
Satisfying bid laws and procurement processes in the United States
Preventing duplication of the bid process
Carrying the industry's best products
Leveraging economies of scale to maximize value
Moving quickly from proposal to contract
Keeping owners in the loop with project control
Giving owners the most product options
Providing Turnkey Product Solutions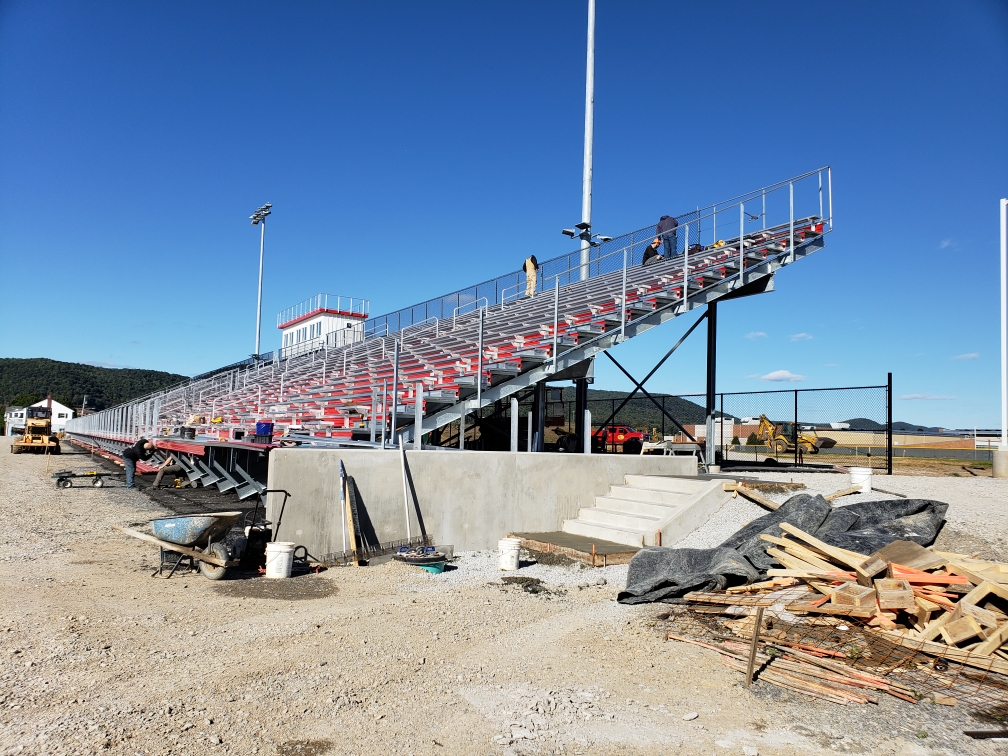 The district had never used the KPN contract to purchase something [of] this magnitude, but in the end, working with you and your company turned out the be one of the easiest parts of our overall stadium project.

Samuel J. Kirk Jr., Director of Finance and Operations at Armstrong School District
MYTH 2: I need to go to bid and select the cheapest (lowest quality) product
Today's economic environment makes bidding for a project even more challenging. The price of aluminum is very volatile and prices keep going up. Current lead times are now 32-34 weeks. With sanctions on Russia relating to the war in Ukraine, it is possible this will get even worse, since Ukraine provides 20% of the world's aluminum.
With KPN, this work has already been done for you. The Keystone Purchasing Network has already solicited competitive bids in sealed envelopes. When it comes to grandstands, KPN took over two years to research all available companies and product options. With the knowledge gained through their due diligence, they were finally ready to receive competitive bids through a sealed bid process, including pre-negotiated prices for the best products.
Regardless of project size and requirements, Stadium Solutions, in conjunction with your architect/engineering group, can meet all your needs while eliminating the duplication of the bid process. You can purchase the grandstand directly saving the mark-up of the general contractor and locking in a good price! This saves you time and money!
With a background in construction and project planning, I had a clear vision on how I wanted this project to look when completed. Stadium Solutions made that vision a reality and exceeded all of my expectations and the expectations of my school board!

Thank you, and the entire Stadium Solutions team, for an outstanding job!

Joseph Orr, Superintendent of Schools, Jefferson-Morgan School District
MYTH 3: I won't be able to get the best product available on the market. I will forget something and won't know until it is too late.
It is our belief that a successful project requires a substantial amount of preliminary fact finding, customer education, and design work. We provide our expertise in these areas to make sure you are getting state of the art products that will meet your needs now and in the future. We devote significant resources to assisting potential clients in the customization and design of their bleacher. A professional architectural firm should provide facilities, lighting, track and other site development work.
Our capabilities pertaining to the seating structure include:
Site reviews and owner fact finding
Preliminary construction estimate
Preliminary plan and section drawings
Product review and applications
Development of technical and product specifications
Building code impact and topographical survey
Professional structural engineering
State and local project submittal
Concrete foundation installation
Total installation from a portable bleacher to a 20,000 seat I beam grandstand – including concrete foundations and flatwork
State review and final inspection for new construction and renovations